Tencent and Alibaba are 2 well known companies that were started in China. They have both risen to become trillion-dollar companies in a span of a few decades and are currently leaders in the E-commerce and Social media arenas.
However, which one is the more profitable company to invest in? Read on for a short introduction to Tencent and Alibaba as well as a comparison of their Businesses. We will be comparing other factors in part 2 of our Tencent vs Alibaba commentary, so do stay tune!
Tencent
An introduction to Tencent
Tencent is the largest social media and entertainment company in China. Its market capitalisation[1] is slightly below 1 trillion SGD.
Founded in 1998 by Pony Ma and 4 of his classmates, it was finally listed in June 2004. When it was first listed, each stock was worth HK$0.81. However, today it is HK$550; showing enormous growth of 700 times in a space of 16 years.
Tencent's growth over the years
Pony Ma first started with a messaging system he called Open ICQ or OICQ. However, he was almost sued for trademark infringement by AOL who owned ICQ. He then switched the name to QQ, with it remaining around till today.
In 2004, Tencent started introducing games to the platform. WeChat was then founded in 2011 and it has remained on the cloud since 2013.
Tencent's founder: Pony Ma
Pony Ma is quite a private person. To him, ideas are not important, rather execution is. Hence, he is more concerned with execution and product qualities[2]. He is also an aggressor acquiror of companies, with there being many technology (structural growth[3]) companies under Tencent.
He started Tencent from scratch since he did not have a successful family to leverage on. His first job as a software engineer for Edges earned him only $176 per month.
Alibaba
An introduction to Alibaba
Alibaba is the largest E-commerce company in China. Its market capitalisation is slightly above that of Tencent's. Founded in 1999 by Jack Ma and 18 of his friends, it was only listed in 2014. At the time of its listing, the stock price was already USD$93. It has increased by 3 times to be USD$286 now. However, this small increase was due to Alibaba already being quite big when it was first listed.
Alibaba's growth over the years
Alibaba was first started when Jack Ma went to the US. He was searching for a Chinese website and could not find any. As such, he set up an impromptu website in 1994. 3 hours after setting up the website, he received an email from investors enquiring about the website. That was when he realised that the internet held a lot of opportunity.
He then went back to China and introduced his friends to the internet. After loading half the page for a website in 3 ½ hours, he was so inspired and proud of the internet that he leveraged on it to build the largest E-commerce company in China.
Alibaba's founder: Jack Ma
Jack Ma is the spiritual founder of Alibaba. He always shared that he applied to over 30 companies and was rejected by all. He also applied to be a policeman and even applied to KFC but got rejected. Although he did not feel good about being rejected so many times, he knew that if he wanted good things that he should never give up. Following this, he gathered 18 of his friends, who could not find a job too, to start Alibaba.
Jack Ma enjoys sharing ideology and life philosophy with people, especially students, on YouTube. Unlike Pony Ma, Jack Ma is more about ideology, vision, ideas and looking forward. As of now, Jack Ma has already left Alibaba to run a philanthropy.
Alibaba vs Tencent:
Alibaba and Tencent started around the same time, both leveraging on the technological revolution brought about by the dot com boom in the late 1990s. However, when it comes to cloud-based technology, Alibaba started a lot earlier than Tencent. Alibaba started integrating into the cloud in 2009 while Tencent only started in 2013, around 4 years later.
Looking at their personality and what they stand for, it is not surprising to see that Jack Ma was the one who thought ahead and got things started while Tencent continued to focus on executing and perfecting their operations. Today, they are rivals but also friends.
We will be comparing the 2 companies in these few areas:
Business: Competitive advantages
Competition: Competition overlaps and how they fare
Financials: Sales growth, Profit growth, Profitability and Financial health
Valuation
Tencent vs Alibaba: Business
Tencent's Business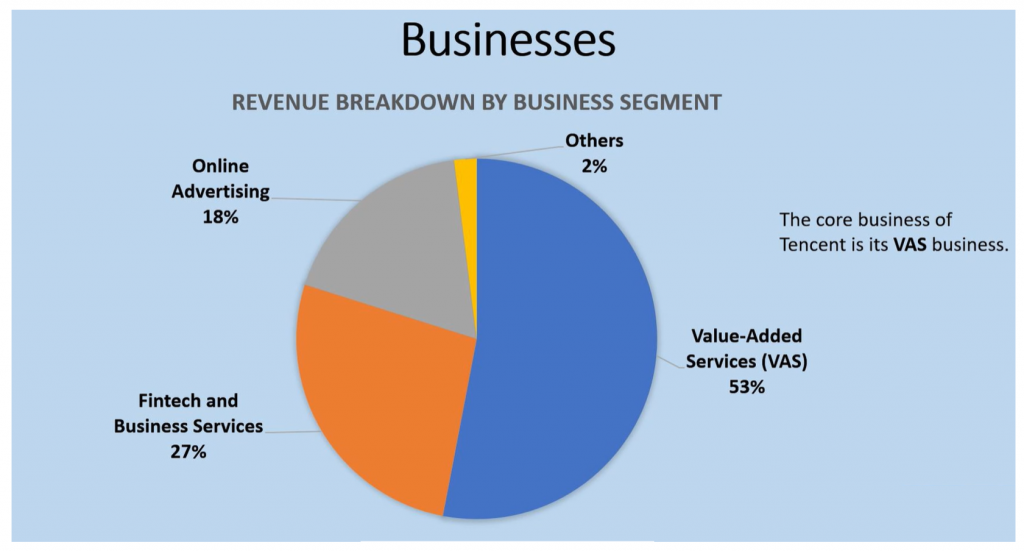 Tencent's primary platform started from QQ and went on to become WeChat, the de-facto messaging platform in China. On WeChat, people's internet accounts are as unique as their account owners. Consequently, it cannot be randomly changed due to China's strict hold over the internet.
In 2004, Tencent went into online games. Today, they have acquired and become major stakeholders in many gaming companies like Supercell and Activision Blizzard. They also ventured into digital content, producing Tencent Music, Video and literature content.
Tencent also does online advertising. They have launched Finance Technology (FinTech) like WeChat Pay and a Cloud and Business Services called Tencent Cloud. Both fall under enterprise while the rest falls under the consumer space.
Looking at the chart, you will realise that half its business is value-added businesses. For example, if you were to look at subscribing to WeChat, the premium account includes online gaming and content streaming, effectively adding value and incentivising people to continue their use of WeChat.
Their online advertising is 18% whereas their FinTech and Cloud Business is about 27%.
Alibaba's Business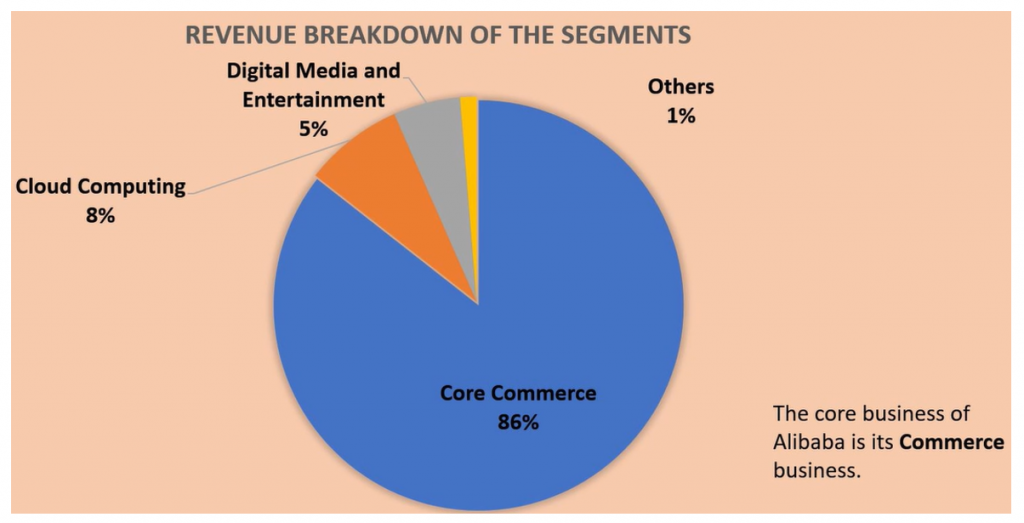 Alibaba's largest Business segment is by far E-commerce. Alibaba owns Taobao and TMall that largely operates in China and slightly beyond. Alibaba also owns Lazada, which is the top few E-commerce sites in South East Asia. They also have food delivery services.
Alibaba also has Youku, a YouTube-like platform, and a logistic business called CaiNiao. It has a Fintech Business called Alipay under Ant Financial, and AliCloud.
As you can see, E-commerce is their core generator of profit. The rest of their business, including its Cloud, is not actually making much money.
After reading through this analysis of their Businesses, which one will you choose? Feel free to comment or ask any questions below and we will see you in part 2!
---
[1] Market capitalisation: The total dollar value of the outstanding stocks. It is calculated by multiplying the current stock price with the outstanding stocks in the market.
[2] Product qualities: The attributes or functions of a certain product.
[3] Structural growth companies: They are disruptors within their own industry and are only sentimentally weakened during a recession. Hence, they can rebound fast during a recession and grow faster than their peers in the same industry.
---
If you have any questions about your personal investment portfolio or want to learn how to better reap the opportunity you are now having, feel free to reach me via heb@thegreyrhino.sg or 8221 1200.
Remember to leave comments and share this site with your friends. Do subscribe to my newsletter for updates and share this site with your friends too. I would love to connect with you.