Previously, on the 1st part of our Tencent and Alibaba comparison, we broke down the Business of both companies. In this article, we will be comparing their Competitive Advantages and Competition to see how they fare against each other.
Additionally, we will be comparing the Financials and Valuation of Tencent and Alibaba in the last part, so do stay tune!
Tencent's Competitive Advantage
The Network Effect
Tencent's primary advantage is the Network Effect. With more users, you attract more sellers, and that in turn attracts more users. When this service is further coupled with a lot of other functions, it can attract a variety of sellers and create a powerful eco-system.
This is what WeChat is; the de-facto messaging platform in China with 1.8 billion monthly active users. With a population of 1.3 billion in China, it seems as if almost everybody has a WeChat account.
Switching Cost
High Switching Cost is Tencent's secondary advantage. Because so many use WeChat and are familiar with its functions, it will be unlikely that they will leave to use another messaging system. As such, there is a high Switching Cost that locks users into WeChat's system.
Typically, a user will engage with WeChat multiple times a day. They view WeChat moments, a social media platform, to see what their friends have shared over the day. When they need to travel, they can use WeChat to order a ride. WeChat can also be used to pay, with users being able to split bills with the LuckyMoney function. Lastly, if they want to shop, they can go through WeChat to access JD.com, a subsidiary of Tencent, to purchase items. These extensive functions locks users into the system.
Alibaba's Competitive Advantage
The Network Effect
Alibaba's primary Competitive Advantage too is the Network Effect. Alibaba has command over more than half of the E-commerce market share. As an early starter, they were able to attract many vendors which in turn attracted many buyers because of the wide array to buy from. This cycle has continued to build Alibaba into the E-commerce giant it is today.
Switching Cost
Sites that are involved in E-commerce need reviews, comments, and rankings for buyers to determine the credibility and quality of the site they will be purchasing from. As such, they will hunt for a site with an abundance of these 3 factors. With Taobao teeming with these, people will continue to trust Taobao and not want to switch platforms.
There is also high Switching Cost because of the design of the online store. Taobao has formatted its store so that online shoppers are used to its simple layout. As such, they will continue to stay as they are used to the design.
Tencent's Competition
A main Competition that Tencent has is ByteDance. ByteDance owns Tik Tok and Douyin, both are a social media network like YouTube that allows users to share short videos online. Both apps combined has around 800 million users worldwide. ByteDance has been said to similarly want to go into gaming, however this is yet to be confirmed.
Is ByteDance a serious competitor? WeChat is an all-in-one combination of a messaging system, social media platform and streaming service. However, TikTok is more akin to Youtube, a video-based social media platform. As such, ByteDance might not be a direct competitor but it is still a serious competitor.
Alibaba's Competition
Taobao, the primary platform under Alibaba, is still a leader in the E-commerce industry and is still growing rapidly. However, Pinduoduo, an interactive E-commerce platform, has recently risen as a serious competitor that is narrowing the gap with Taobao. JD.com too is rising as a serious competitor especially during this pandemic. This is because it owns its' own logistic network, unlike Taobao and Pinduoduo.
Additionally, Alibaba lacks consumer traffic as it does not have a very successful social media platform. Alibaba also does not fully optimise their use of search engines. Hence, although it is powerful in the merchandise arena in terms of variety, it is weaker at driving foot traffic[1].
Tencent vs Alibaba: Competitive Advantage and Competition
When comparing both companies in their separate 2 categories, I think that Tencent wins. Competitive Advantages is stronger for Tencent because once a person gets locked into the messaging system, it becomes very hard to leave as all their friends are there. Until today, there is no serious Competition for WeChat. This is because it is very hard to compete in the messaging system arena.
Although Alibaba has its own Competitive Advantages, it has also started to see many rising competitors. Additionally, these are direct competitors who post a serious threat to Alibaba. As such, Tencent seems to have a better prospect when we compare these 2 categories.
Tencent vs Alibaba: Direct Competition
Both companies are experts in their varying arenas, Tencent is into social media and entertainment whereas Alibaba is into E-commerce. However, different areas under both companies do fall into direct competition. There might be other areas of overlap, but we will be focusing specifically on the Cloud and Food Delivery Service industries.
Cloud industry
Tencent owns Tencent Cloud while Alibaba owns Alibaba Cloud. Tencent Cloud only came online 4 years after Alibaba Cloud in 2013. By and large, Tencent's Cloud business represents a profitable 27% of their business. In comparison, Alibaba's Cloud business only takes up 8% of their business and it is not profitable. However, to effectively compare it, we should look at 2 areas: Market Share and Growth.
Cloud industry – Market Share
Alibaba started its Cloud platform 4 years before Tencent did, this has allowed it to be the market leader for Cloud platforms in China. It monopolises 45% of the Cloud market whereas Tencent only has 14% of the market. Subsequently, Alibaba earns $40 billion from its Cloud business whereas Tencent earns only $17 billion. Additionally, this Cloud industry is a fast-growing market, and spending in this service has grown about 67% in Q1 2020 despite the covid-19 pandemic hitting.
Alibaba wins in this area of competition as it remains a market leader and will continue to earn much more profit from this segment in comparison to Tencent.
Cloud industry – Growth
In 2018, Alibaba's Cloud market share growth was 43% whereas Tencent's growth was 11.2%. In 2020, Alibaba's Cloud market share growth has grown by 1.5% to become 44.5% whereas Tencent's grew 2.4% to become 13.9%.
As such, Tencent's Cloud business is the faster grower amongst both. But we must note that the fastest growing competitor is Huawei. In 2018, Huawei only had 2.5% of the market share but it has 14% of the market share today.
Food Delivery
Tencent owns Meituan Dianping (Meituan) whereas Alibaba owns Ele.me.
Food Delivery – Market Share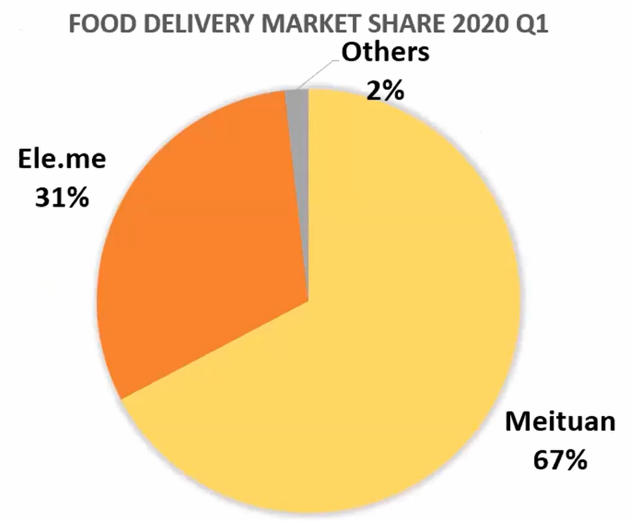 Meituan has a bigger market share than Ele.me. In fact, it is a hefty 2/3 to 1/3 ratio.
Food Delivery – Growth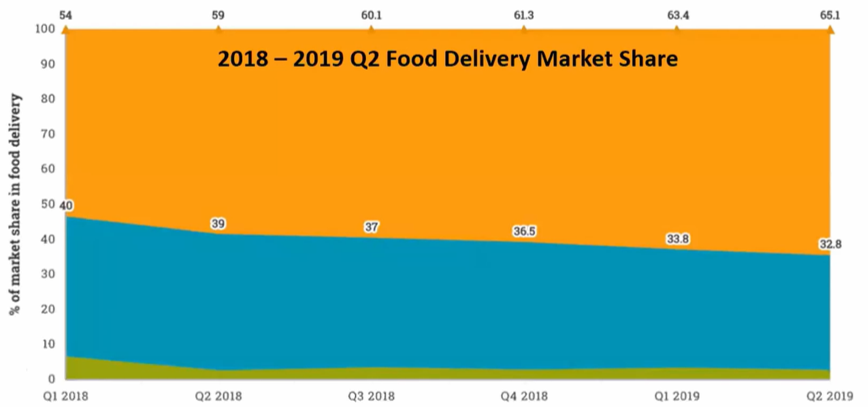 The orange represents Meituan while the Blue represents Ele.me from Q1 2018 to Q2 2019. As you can see, Meituan has been growing while Ele.me has been declining. As such, Meituan has had a growing market share at the expense of Ele.me.
We can see from this that Tencent is the winner in Food Delivery for both Market Share and Growth. When we compare these two segments, it is quite clear that Tencent is the winner. This indicates that Tencent is good at executing and this has pushed its rapid growth.
To finish the comparison and finally give a conclusion, I will be discussing the Financials and Valuation of Alibaba and Tencent in the next article. Feel free to share this with your friends who are interested in either stock and, I will see you in the next article.
---
[1] Foot Traffic: The number of customers entering the store or platform.
---
If you have any questions about your personal investment portfolio or want to learn how to better reap the opportunity you are now having, feel free to reach me via heb@thegreyrhino.sg or 8221 1200.
Remember to leave comments and share this site with your friends. Do subscribe to my newsletter for updates and share this site with your friends too. I would love to connect with you.