Investment outlook for SIA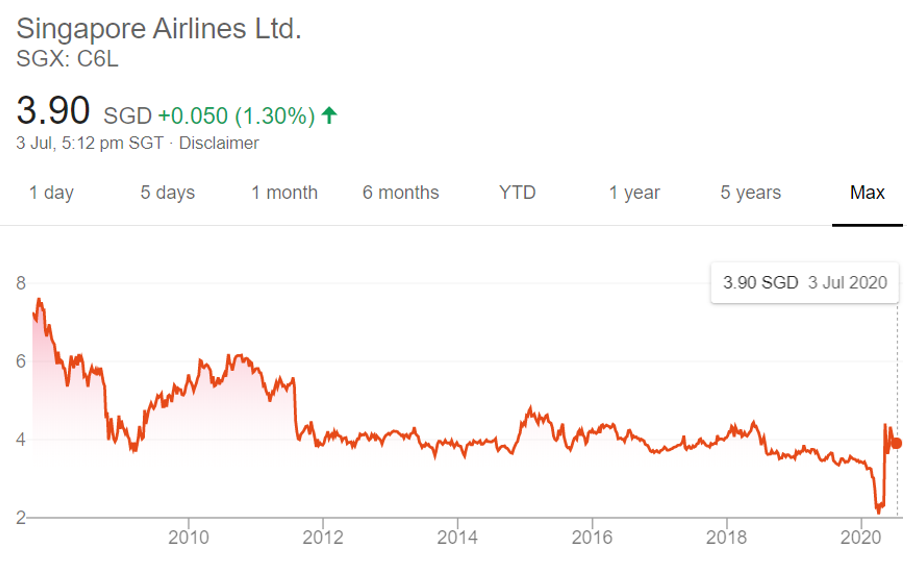 The chart above shows SIA's stock price from 2007 until today. We can observe that the price stays flat when the economy is good but dips when the economy faces a downturn. This is a typical characteristic of a Cyclical growth company[1].
Cyclical companies, like SIA, may look attractive to some.
People who are opportunistic could invest into this company to capture the 5-20% gain when the economy recovers. However, it only provides an avenue for short term excitement and an opportunity to earn a little bit of extra money.
However, if round 2 comes[2], these cyclical companies will often experience a drop in their price more than the market as a whole and will subsequently rebound less.
Covid-19 and the permanent alteration of the airline industry
This will happen because of several fundamental reasons. Firstly, SIA operates in an industry with poor dynamics and is surrounded by strong competition. SIA too, does not have any competitive advantage over its peers. Additionally, the Covid-19 pandemic has permanently altered the airline industry to cause a permanent decrease in airline demands.
This perpetual fall is a result of 2 different reasons.
Working from home
Global business travel will be reduced in the future as companies are getting used to using online mediums of communication, like Zoom, to communicate across countries. These mediums have allowed companies to save time as they do not need to physically fly to their counterpart's country.
Gradual shifting of the supply chain
The pandemic has caused corporations to re-evaluate how they operate, whereby they will slowly shift part of their supply chain closer to home. This is because their focus on safety and redundancy will be on par with efficiency. Shifting supply chains closer to home will also decrease the amount of travel time taken to transport materials.
Before we proceed forward with the decision to invest, we must understand that we are facing this permanent headwind and uncertainty as to whether round 2 is over. Hence, apart from buying into SIA for the temporary rebound of 10-20%, I would not invest into this type of company.
What should you invest in instead?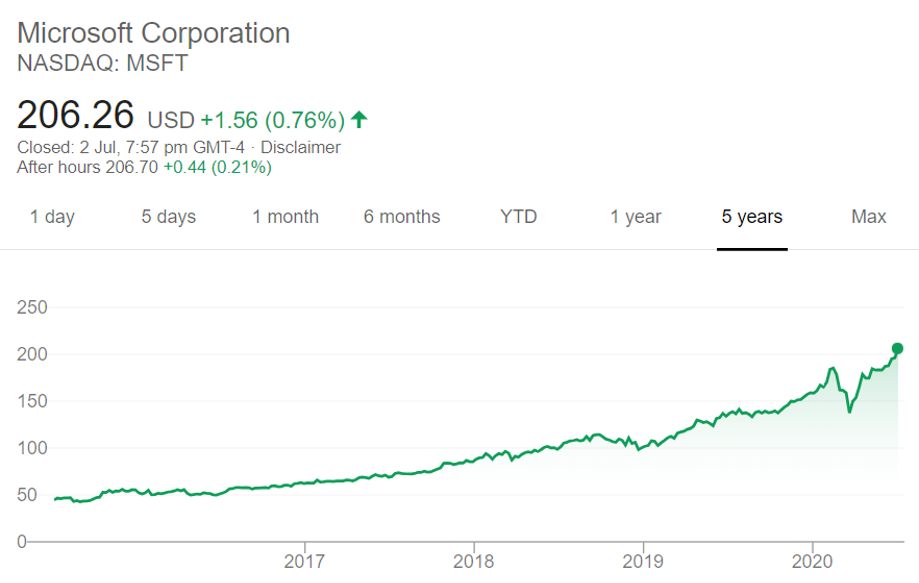 To determine this, let us contrast 2 companies, SIA and Microsoft. Looking at the chart for Microsoft above and the chart for SIA, if you can invest into either company, which company would you choose?
Structural growth companies like Microsoft[3] (fn, expl) will rebound less furiously than SIA as the economy improves. However, we must take a step back to look at the bigger picture. The rebound, albeit drastic, only occurs in a very small space of time. In contrast, Microsoft does much better than SIA for majority of the time in any given year.
Changing your investment mindset
As investors, we should try not to focus on bargain hunting and instead focus on value. Many people often fixate on the price of the stock. For example, SIA used to be $12 per share but it is currently $4. But if we were to look at the value of the stock, its value could have fallen from $12 to $1.
Therefore, it is safe to reason that a stock might not be any more attractive just because of the dip in its price. Instead, we should research deeper into companies to understand the true value of its stock.
---
If you have any questions about your personal investment portfolio or want to learn how to better reap the opportunity you are now having, feel free to reach me via heb@thegreyrhino.sg or 8221 1200.
Remember to leave comments and share this site with your friends. Do subscribe to my newsletter for updates and share this site with your friends too. I would love to connect with you.
---
[1] Cyclical growth companies often sell discretionary goods. Hence, they follow the economy closely. Their stock prices increase when the economy does well but decrease when the economy faces a recession.
[2] To read more on the round 2, read my previous article: Covid-19: Is it all clear ahead now?
[3] Structural growth companies are disruptors within their own industry and are only sentimentally weakened during a recession. Hence, they can rebound fast during a recession and grow faster than their peers in the same industry.