Management and Financials
This article serves as a continuation to our article: Understanding Microsoft's Business Model. If you want to have a more complete outlook of Microsoft as a company, I recommend that you read the previous article before browsing through this.
In this article we will be touching on the Management and Financials of Microsoft. Consequently, we will be going through the sub-factors of Stability and Innovation for Management and Growth and Profitability for the Financials.
I have decided to go through both in this article as both factors are heavily intertwined. The Management of Microsoft plays a crucial part in affecting and explaining the resultant and future Financials of Microsoft.
Microsoft's Management: Stability
If a company is to be stable in the long run, it is important that the leadership of the company stays for the long term too. This is because long-term management will give leaders more time to build up and impose the structures particular to their long-term company vision. Additionally, the leadership should also be good if they were to stay in the long term.
Microsoft's Management: Innovation
The management must continuously innovate as the company might get disrupted if they become complacent. As such, the leader of the company must lead the way towards innovation and continue to stay hungry for it.
From the day Microsoft started in 1975 till today, Microsoft has only had 3 CEOs. All of them had long runs as the head of Microsoft, from Bill Gates as their CEO during their 1975 inception, to Steve Ballmer and finally to the current CEO, Satya Nadella in 2014. These long rides have allowed them to realise their individual visions for Microsoft and consequently result in Microsoft staying at the top of the tech industry throughout their various terms.
How has Satya Nadella changed Microsoft?
Satya Nadella managed to triple Microsoft's stock price in just over 4 years. This is because when he made his first appearance as Microsoft's CEO, he announced that the world was heading towards a cloud-first and mobile-first direction. In doing this, he chose to revitalise Microsoft by introducing a completely new and innovative direction instead of clinging onto the Windows operating system.
This also resulted in the creation of a new business model and culture for Microsoft. In a time of disruption and innovation, culture needs to go through simultaneous change. Satya Nadella then changed the culture of Microsoft to one that embraced open source development[1], allowing Microsoft to evolve faster in the ever-changing technological environment.
Additionally, he began to partner with competitors. A prominent example was how Microsoft decided to team up with Apple to launch their applications on the Apple system. Though this happened after botching the buy over of Nokia and production of smartphones, this show of a collaboration mindset displays Microsoft's desire to listen to their customers and give them what they want instead of engaging in unhealthy competition.
Microsoft's Financials: Growth
I will focus on Growth as it allows me to identify clear characteristics of a Structural Growth Company[2].
Microsoft has managed to grow by 388% in the last 5 years under the leadership of Satya Nadella. They were also able to rebound back quite significantly and even accelerate in terms of technological growth during the pandemic while normal companies suffered. As such, we can see the qualities of a Structural Growth company in Microsoft after observing its rapid share price growth.
In terms of investing in Microsoft, there is no doubt that you will earn a continuous and pleasant stream of dividends. This is because the dividends per share has been growing gradually with Microsoft paying out 1/3 of their earnings as dividends and the dividends having an annual growth rate of 15%. With this rate of growth, it is likely that Microsoft will provide a dividend payout of 4 times todays' amount in 10 years times.
However, it is unlikely that this rate of growth will remain constant forever. The cloud industry is still in its adolescent stage, but when the industry becomes saturated and mature, growth will slow down.
Microsoft's Financials: Profitability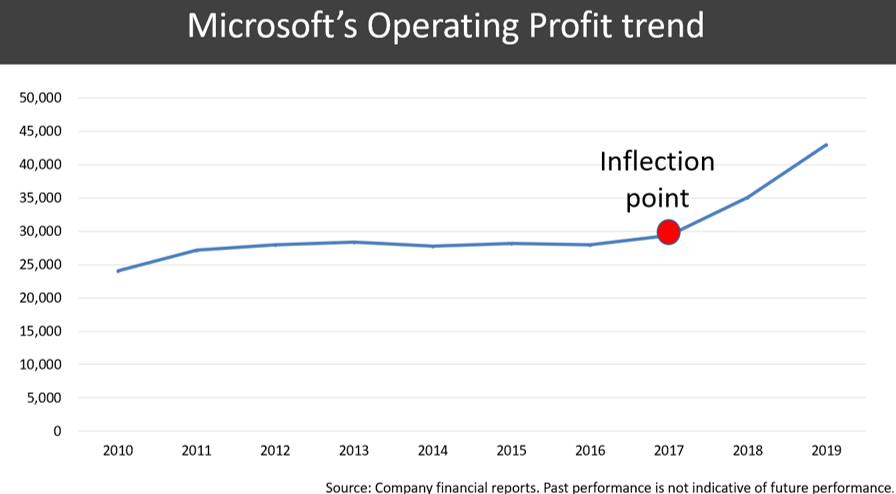 When we observe Microsoft's Operating Profit Trend for the last 10 years, we notice that the inflection and subsequent increase in operating profit only took place in 2017 though Satya Nadella took over in 2014.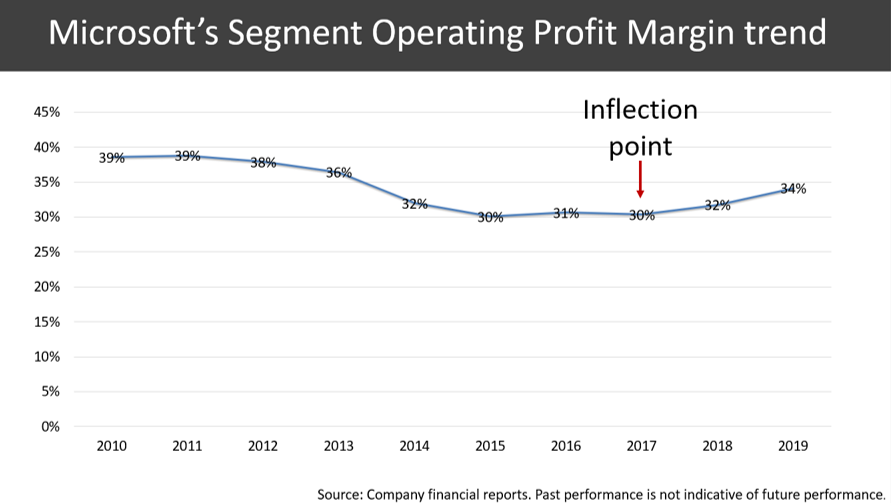 Furthermore, if we were to look at the Segment Operation Profit Margin[3] Trend, we can observe that the profit margin dropped from 39% to 30% even after Satya Nadella's take over, with the inflection point similarly only occurring at 2017. This is because, as a cloud-based technology company, switching from a one-time payment model to a subscription model always results in initial profit losses.
For example, if you were to buy the entire Microsoft Operating System and Microsoft Office last time, it would have resulted in a one-time payment of $500-$600. However, the subscription model that Microsoft 365 currently has only requires you to pay $10 per month. This means that Microsoft will lose $480 per customer who switched in the first year of launching Microsoft 365.
However, as more users switch to the subscription model, the profit from this revenue model will increase overtime and result in the pivot we see in 2017. This is because the subscription model continuously collects payments while the one-time payment model only earns profit every few years when the customer is willing to switch their version of the system. As such, the cloud subscription will take around 4 to 5 years to match the revenue of the previous model and the profit will continue to rise from the inflection point to match the initial 39%.
Additionally, the subscription model could prove to be more profitable than the old business model as it is stickier[4]. The subscription model forces people to continuously update their software as the upgrades are automatic. Hence, subscribers will continue to use and pay for it. In contrast, the original business model allowed customers to keep using older version of the operating system if they were comfortable with it, subsequently halting future customer purchases.
What will happen to Microsoft's revenue and profit margin in the future?
We are currently in the early phase of this point of inflection. As such, Microsoft's revenue and profit margin should continue to trend upwards in the years to come.
As mentioned briefly earlier, Microsoft has also gotten the tailwind of the Covid-19 pandemic. They have even experienced an acceleration in the growth as the pandemic has boosted online communication and subsequently the cloud business. In fact, Satya Nadella mentioned in the last earnings report that 2 years' worth of business transformation has occurred in merely 2 months because of the increase in online communication.
These 2 plus-points should allow you to have optimism in Microsoft and their future.
I will be entering the final part of my analysis on Microsoft next week. If you want to stay tune to the updates, do remember to subscribe to get notified.
---
[1] Open source development: It allows developers outside of Microsoft to build on, modify and improve Microsoft's programming code through projects.
[2] Structural Growth Company: They are innovative disruptors in their respective industries and grow much faster than their peers.
[3] Segment Operation Profit Margin: The amount of profit or loss produced by one component of the business.
[4] "Sticky" Business Model: The fundamental ability to retain customers.
---
If you have any questions about your personal investment portfolio or want to learn how to better reap the opportunity you are now having, feel free to reach me via heb@thegreyrhino.sg or 8221 1200.
Remember to leave comments and share this site with your friends. Do subscribe to my newsletter for updates and share this site with your friends too. I would love to connect with you.