Let me introduce FOUR different asset classes to kick start your investing journey!
1. Stock Index: Straits Times Index
Straits Times Index Straits Times Index (STI) is very popular among retail investors. It comprises the top 30 largest companies by market capitalization listed on Singapore Exchange (SGX). You might be familiar with Singtel, DBS, Singapore Airlines (SIA), ComfortDelgro, etc. These companies form part of the STI. Let's assume you invested into STI in 1998. Do you know how did it perform over a course of 20 years?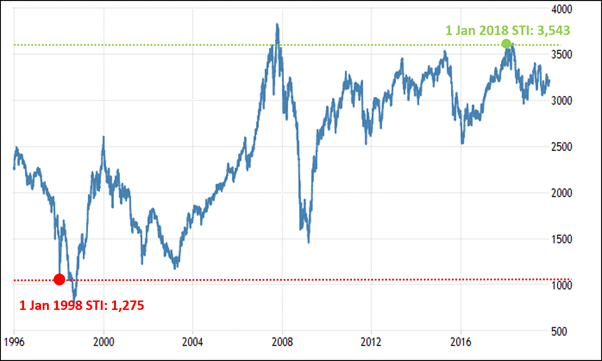 January 1998 STI: 1,518
January 2018 STI: 3,520
As the above chart shows, annualized return is about 5.2% per annum over the 20 years. If we were to add in the average dividend yield of approximately 3.5%, it would give investors a return of about 8.7% per annum. This return is definitely higher than putting money in local banks!
2. Investment Property
Alternatively, you may consider investing into Singapore properties. The chart below shows Singapore Residential Property Price Index over the past 20 years. It measures private housing prices in Singapore.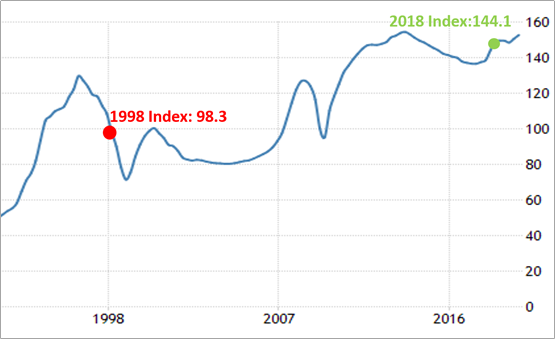 1998 Index: 98.3
2018 Index: 144.1
Looking at the capital gain, the annualized returns is about 1.9% per annum. However, assuming you rent out your property, the average rental yield you could receive is around 3% per annum (based on historical average yield statistic from EdgeProp,the lowest rental yield in year 2016). Hence, total estimated returns investing in Singapore properties could achieve about 4.9% per annum.
3. Corporate Bonds
If you do not want to stomach too much volatility (big upswings and downswings) in your investment, you may want to consider corporate bonds, which is also known as fixed income. The chart below shows the S&P Singapore Corporate Bond Index. This index tracks the performance of local corporate bonds issued in Singapore Dollar. Since earlier data is not available, let's look at the past 10-years trend as an indication of holding bonds over a long period.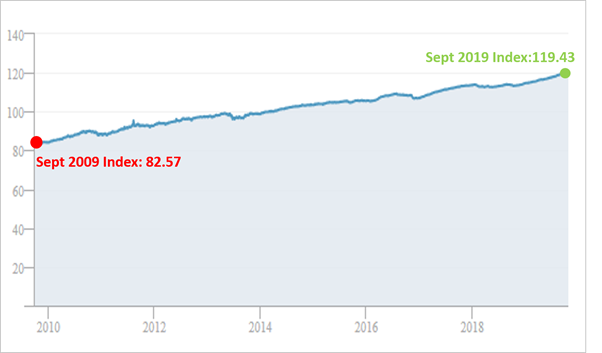 September 2009 index: 82.57
September 2019 index: 119.43
As you can see, the annualized returns is about 3.7% per annum. This is still higher than local bank deposit interest rates.
4. Precious Metals: Gold
For years, gold has been considered a store of value, as well as serving as a form of insurance against adverse economic event. Since the early 2000s, gold has been rising exponentially.

January 1998: US$300
January 2018: US$1,300
The annualized return for gold is about 7.6% per annum, which is rather a good return. However, the way up is rather bumpy. Could you withstand the volatility?
In Summary

All the asset classes outperform bank interest rates over the long term. Nevertheless, it would be risky to invest in ONLY ONE asset class. There are inherent risks such as liquidity risk, market risk, credit risk, black swan events, etc associated with any asset class.
Moreover, different asset class takes turn to shine as we progress through the economic season. As such, it would be rewarding to assess where we are in the economic season and increase the allocation to the asset class that will shine in that season.
Growing wealth is definitely not easy. With good planning and professional advice, I am sure you can do it!
---
If you have any questions about your personal investment portfolio or want to learn how to better reap the opportunity you are now having, feel free to reach me via heb@thegreyrhino.sg or 8221 1200.
Remember to leave comments and share this site with your friends. Do subscribe to my newsletter for updates and share this site with your friends too. I would love to connect with you.