There are 4 types of stocks; each with different characteristics and expected results. By understanding them, you will be enabled to wisely choose the stocks to invest into.
1. Structural Growth
They grow because they follow long-term, structural trends. By taking away market share from others, they might not need a super charged economic growth to grow.
SPH vs Property Guru
Recognised as one of the most stable and established Singaporean companies 20 years ago, SPH gave an avenue for advertisements to reach the masses easily. Property sellers often advertised through SPH.
However, now, properties can be advertised at a cheaper rate through Property Guru. This migration follows the trend of digitisation, with Property Guru taking away market share from SPH.
Are there any risks?
They might not always do well. Although this highly relevant model is a must have in your investment portfolio, we must allocate them wisely. Additionally, they are also a risky investment as investors seeking short term gains also invest into this segment as these companies have been earning multi-fold returns the past few years.
Current development of Structural Growth Companies
These companies will experience a lot of volatility, they rapidly rise in value because they are susceptible to rise in interest rates. So as the economy reopens, interest rates and inflation will also pick up in the second half of the year.
Now is an opportune time to buy in with proper risk management through Valuation. Such companies have had a run up in value during the Covid-19 lockdown that built on the general rise over the previous 5-10 years. Valuation is then necessary to ensure that we buy companies at a reasonable price.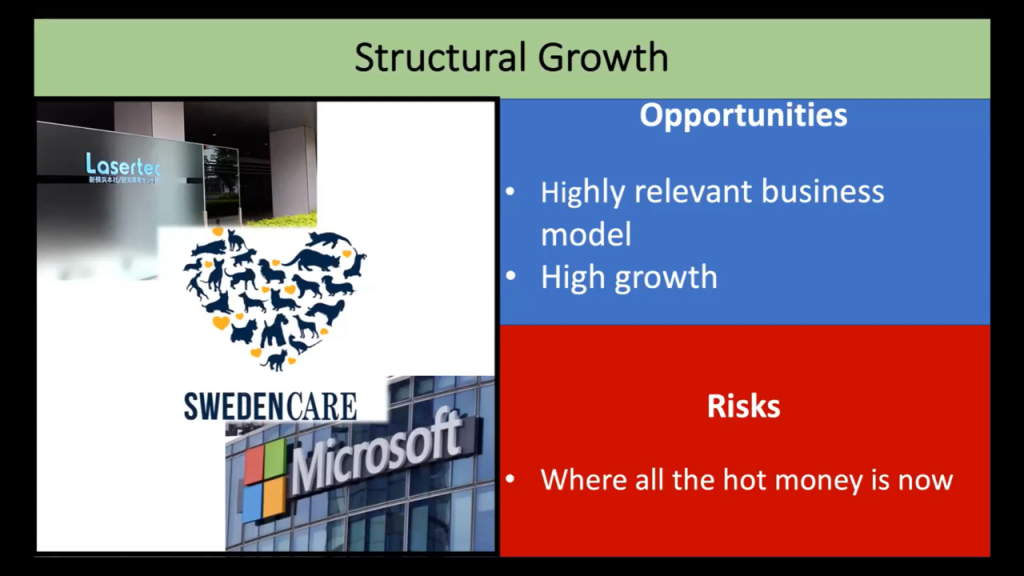 2. Cyclical Growth
Their growth directly follows the growth of the economy. Today, some of these companies have already benefitted from the rise out of the recession.
The position of these companies forecast the opening of the economy as the stock market always leads the actual economy. So, these companies have already increased in value because the market expects the economy to reopen in the 2nd half of the year.
They have a traditional type of business model and are the main beneficiaries of economic growth. However, the easy gains from these companies may have already passed us. Even if there is more room for growth this year, we must invest carefully.
Current development of Cyclical Growth Companies
At the start of the economic growth, every cyclical company would have benefitted from it as they were all depressed during the Covid-19 pandemic. From here on, we will have to pay attention to the quality of the companies we invest into.
Low quality companies will be the chief victim if there is another recession as they are highly leveraged on the economy. Their business model might also become obsolete and fall into the Structural Decline category.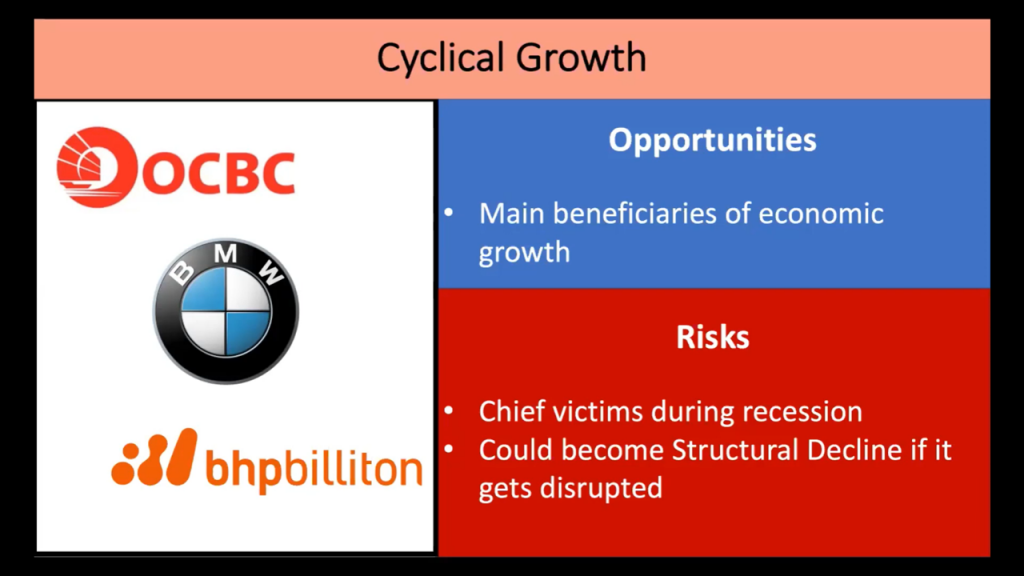 3. Mature and Stable
They are monopolies in their own industries, yet they often experience slow growth at 5% or less per year. However, they give high dividend yields because they do not need to use their good cashflow for future growth.
We must be mindful that these companies do not become obsolete and fall into the Structural Decline category.
Current development of Mature and Stable Companies
We are likely to find high quality Mature and Stable companies to invest into now as we have passed the early cycle of economic growth into a period of a more mature growth.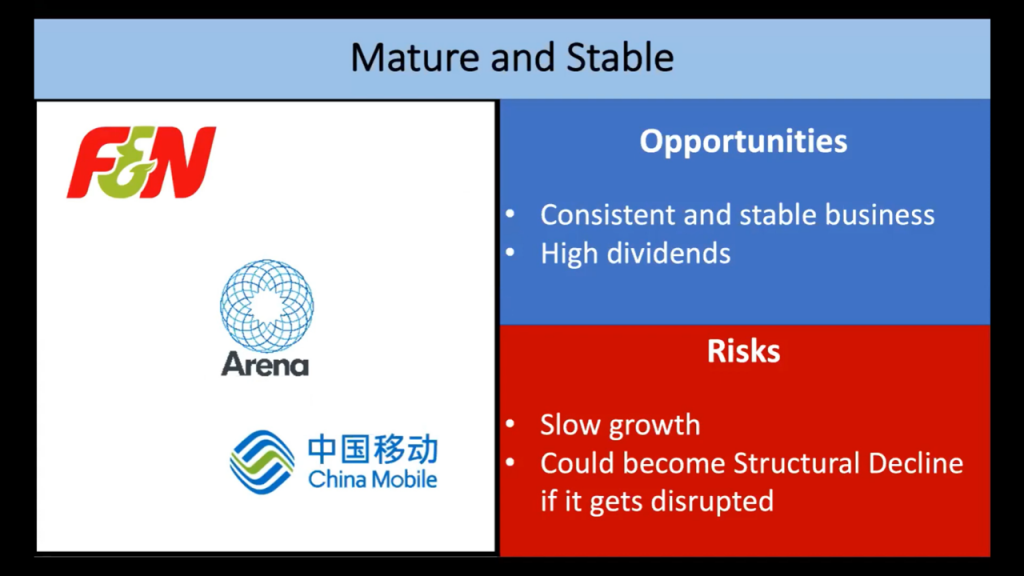 4. Structural Decline
They are companies whose business model have become obsolete. Think companies like SPH, whose market share is being taken away by the likes of companies like Property Guru, SG Carmart, and LinkedIn. These are the companies we should avoid as they will only give us losses in the long run.
Summary of the types of companies
1. Structural Growth
Structural Growth companies will grow bigger fast although they are currently small and nimble.
2. Cyclical Growth
Cyclical Growth companies see a decrease in value when the economy is not doing well and sees an increase in value when the economy picks up.
3. Mature and Stable
Mature and Stable companies are big and steady. However, small structural growth companies could easily dislodge mature and stable companies.
4. Structural Decline
Structural Decline companies are already extinct. We must avoid them at all costs as it is hard for them to turn around.
---
If you have any questions about your personal investment portfolio or want to learn how to better reap the opportunity you are now having, feel free to reach me via heb@thegreyrhino.sg or 8221 1200.
Remember to leave comments and share this site with your friends. Do subscribe to my newsletter for updates and share this site with your friends too. I would love to connect with you.