A lot has changed since we last talked about Tencent and Alibaba. China's technology index has fallen by more than 60% from its peak. Tencent has fallen by 55% while Alibaba has fallen by more than 70%. Could this be an attractive opportunity for investors?
Alibaba's and Tencent's investing
Alibaba's and Tencent's investing are interesting and big parts of their businesses, but they are often not talked about.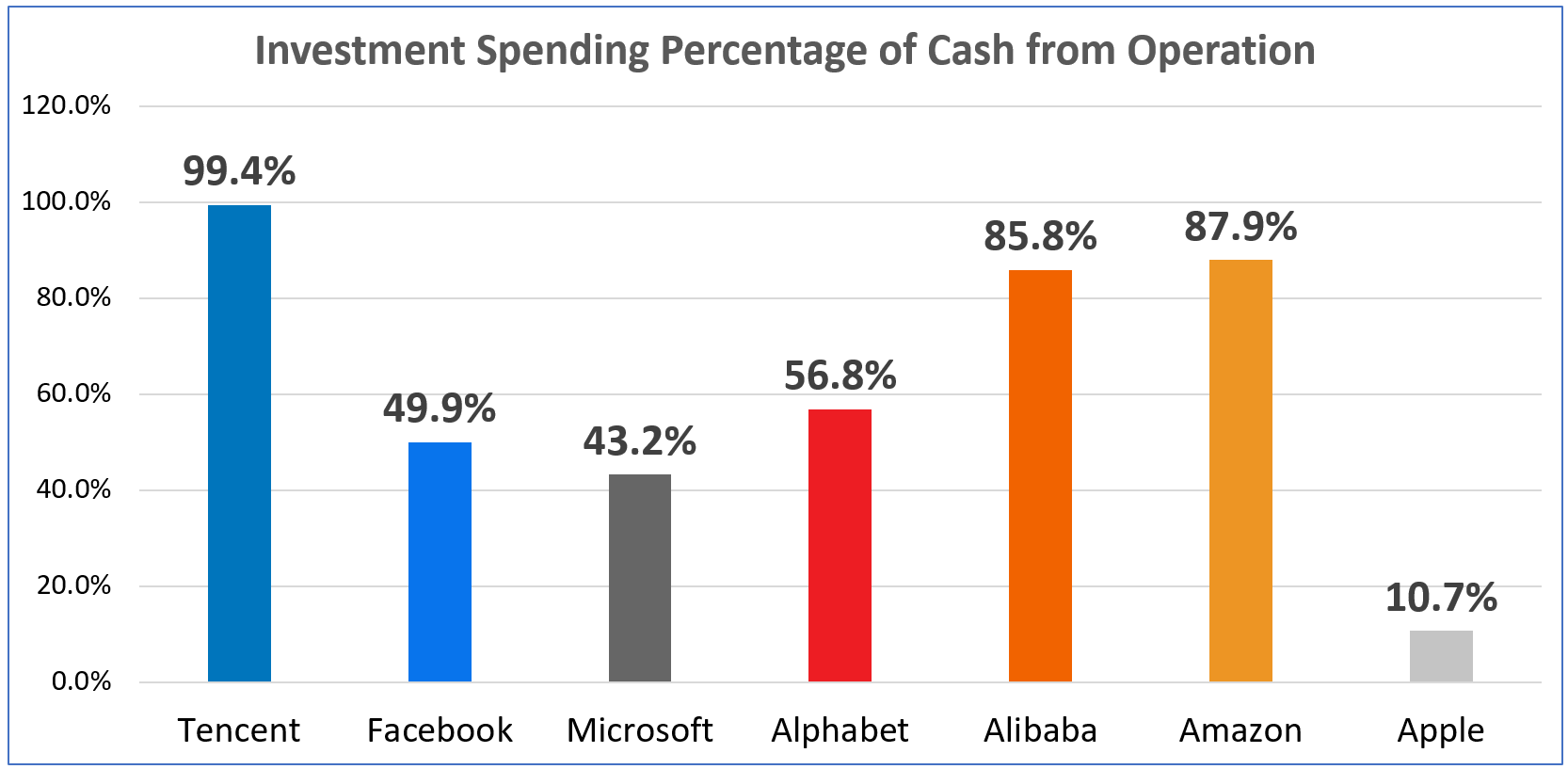 This chart shows each company's percentage of cash from operations spent on investment. Tencent uses almost all its cash flow from operations to invest in other companies. Alibaba is not too far behind at 86%. Investment is clearly very important for them, with both companies ranking high amongst other global big tech companies in terms of investment expenditure.
Tencent's business and investment strategy
Tencent's core engine is its communication services like Wechat and QQ. The core engine does not make it money. However, Tencent uses this engine to direct traffic to its other businesses like gaming and digital content. Hence, similarly, when Tencent invests in other businesses, it uses its core engine to direct business to its investee companies. It is then dubbed as a king maker as this makes the acquired companies much more valuable.
In fact, because of this investment strategy, Tencent incubates many Unicorns; technology companies worth more than USD$1 billion. The chart above shows that it is the world's 6th best firm at generating Unicorns.
Alibaba's business and investment strategy
Alibaba's core engine is its eCommerce business. However, unlike Tencent's core engine, Alibaba's makes it the most money. Hence, when it acquires a company, it uses that company to direct business to its core engine, making the core business more valuable.
Alibaba and Tencent have very distinct ways of generating money, thus the way they invest also varies greatly.
Alibaba's and Tencent's ASEAN investments
The bulk of Alibaba's and Tencent's investments is in the ASEAN region as it has a very vibrant, young, and growing population. It has a large growth trajectory ahead and since these young people are well connected to the internet, they can use Tencent's and Alibaba's services.
Their different investment philosophies can be seen in the way they invest in ASEAN companies. When Tencent invests in ASEAN companies like Gojek or Grab, it brings along brother and sister companies, like JD.com, Didi, and Meituan. These companies will then also invest in other ASEAN companies and prosper together. Alibaba, on the other hand, does not do this as it likes to integrate the whole investee company into its business.
Alibaba's and Tencent's main difference in their investment philosophies
Tencent invests similarly to Berkshire Hathaway. It lets the existing management of the company run the business instead of interfering. It only adds value by directing traffic to the business. On the flip side, Alibaba integrates itself into the existing businesses as it wants to merge its culture in. As such, the existing management of the investee company would leave at times. For example, when it acquired SCMP, the CEO quit. In my view, Tencent invests a lot more sustainably.
Invest in Alibaba or Tencent?
I prefer how Tencent invests in other companies, so I will be analysing it more.
Tencent's current valuation
Tencent's current market cap is about USD$420 billion. The worth of its listed and unlisted companies are both close to USD$100 billion. Combined, its investee companies would be worth half of its valuation at USD$200 billion. This leaves around USD$220 billion as the valuation of its core business.
Tencent's potential earnings
Tencent's latest earnings, extrapolated to the full year, is approximately USD$60 billion. This slow growth comes after a 23% year-on-year decline in its profits due to added regulations and China's lockdown. However, I expect that China will lift this Covid-zero status and open its economy soon. The vice premier, Liu He, also mentioned recently that the regulations imposed on tech companies is easing.
Thus, compared to previous years, Tencent should grow faster moving forward. We can most likely expect a 10-15% annual growth. The Price-Earnings (PE) ratio about 14 times. With this growth rate, the Price-Earnings-to-Growth (PEG) ratio could be 1 time thereabout. This makes Tencent a very attractive stock for long term investors.
I invest in Tencent personally. If you have not invested in Tencent, now would be an opportune time to add it into your portfolio to reap rewards in the long-term.
---
Important notice
---
If you would like to seek advice on your personal investment portfolio, get in touch with me at heb@thegreyrhino.sg or 8221 1200, I would love to connect with you.
Stay updated with the latest news and insights, subscribe to my newsletter, and spread the word.