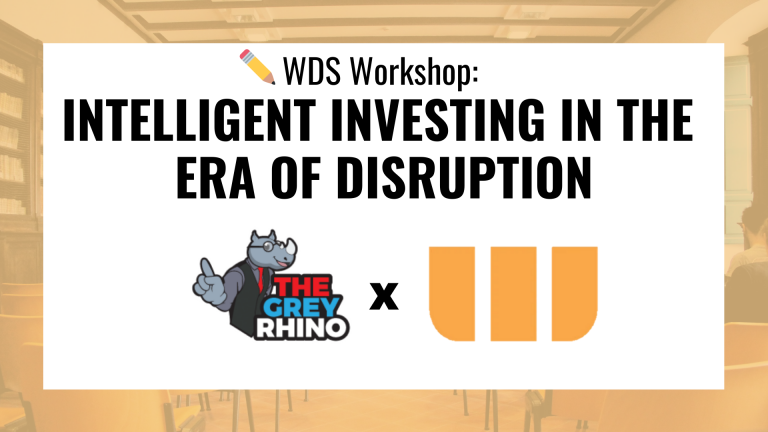 Why I started this journey
Similar to why I started this blog, I felt the need to share with as many people as possible about the changing face of investing. Thus, I agreed to an invitation by Wealth Design Studio (WDS) to conduct a series of public investment courses late last year.
People who are investing based on the old paradigm run a risk of wealth destruction through investing. So, by conducting this course, I hope to see many more people succeed in investing and go on to live a prosperous, happy, and fulfilling life, just as I have been blessed with in my life.
Many say, "Value Investing is DEAD", but I beg to differ. The principles of value investing will remain timeless but the application evolved. I will share about this evolvement, reasons for the evolvement and how to invest with this evolvement in the course. These are the same principles I used in my personal investing and I hope that people can pick up these skills to create their own successful investment portfolios.
What is this course about?
This course will teach you the fundamentals of value investing in this era of disruption. It will teach you how to analyse and evaluate competitive advantage, financial performance and cash flow quality. This will ultimately build a solid foundation for you as you continue on your investment journey.
You can sign up for the first module: Bedrock of Intelligent Investing now!
Where do I sign up?
If you interested, I welcome you to sign up by clicking on:
WDS workshop: Intelligent Investing in the Era of Disruption
I hope to see you at the workshop and if you think this workshop is valuable for your friends, do share it with them! Other than that, feel free to browse and subscribe to my blog for more investment-based articles.
---
If you have any questions about your personal investment portfolio or want to learn how to better reap the opportunity you are now having, feel free to reach me via heb@thegreyrhino.sg or 8221 1200.
Remember to leave comments and share this site with your friends. Do subscribe to my newsletter for updates and share this site with your friends too. I would love to connect with you.